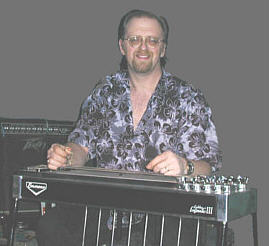 ME

BACK TO FUN STUFF
My name is Ernie Renn.
I started playing guitar in 1966. About 1968, my dad, got a Fender, 8 string, 4 pedal, steel which I putzed with for a while. Dad decided he didn't want the steel anymore. He traded it in on a Telecaster. He took it with him to play a few times. He played rhythm guitar and thought he could use the Tele. Finally, he just left it home for me to play on. In 1969 I played my first bar gig (with the '68 Tele).
The steel bug didn't bite me until late in 1973.
I had worked at a Jewelry/Music store that previous summer. It was run by a guy named Ron Ware, who played fiddle, sax, AND steel. He carried the normal music store stuff (guitars, amps, cords, strings, etc...), but he also was an Emmons steel guitar dealer. I had looked at them, but thought they looked too complicated. (Besides, Johnny Cash's band didn't have one.)
Then Ron got in an album that he just insisted I take home. I was blown completely away. Emmons Guitar, Inc. (The Black Album) by Buddy Emmons started my week. That was on, I think Tuesday, and on Friday the family went to see Ernest Tubb and the Texas Troubadours. So between Buddy's black album and Buddy Charleton of the Troubadours...
I WAS HOOKED!!