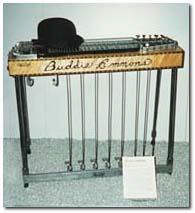 Above image from Mike Lewis' "Pedal Steel Pickers Page"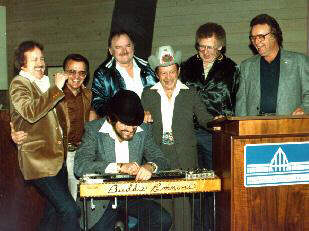 LtoR (Behind Buddy): Jim Case, Jeff Newman,
Weldon Myrick, "Little" Jimmy Dickens, Ron
Elliot, and Don Helms.

FROM BUDDY'S
PRIVATE COLLECTION

Buddy's Sho-Bud goes into the
Country Music Hall of Fame!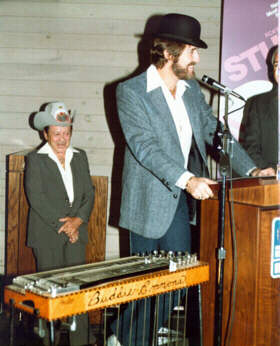 Note: The lighter section on the front of the guitar is where, onetime owner, Pete Drake had a panel attached to cover the name. It has Pete's set-up on it.
(Country Music Foundation Donation Certificate below)

BACK TO FUN STUFF