Excerpt from:
Ray Price and his
Cherokee Cowboys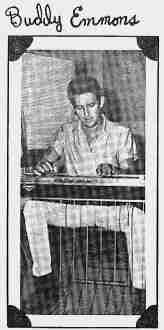 BACK TO "FUN STUFF"
BUDDIE GENE EMMONS - Stereo steel guitar - When you hear the words "steel guitar" you automatically think of the next member of the Cherokees. Last but by no means not least is the Nation's Number One Steel Player, Buddie Gene Emmons.
The only member of the band not born in Texas, the big "E", as he is known by most everyone, was born in Mishawaka, Indiana, near South Bend, on January 27, 1937. He has a younger sister, Peggy.
Buddie was 11 when he started playing the steel. July 4th, 1955 Buddie came to the Opry with Little Jimmy Dickens. Later he worked for Carl Smith and Ernest Tubb. He has recorded with almost every name star in Nashville as well as a lot of unknown artists. Buddie records for Mercury and has an album, released during last year's Convention, titled "Steel Guitar Jazz," #20843, stereo #60843, a very fitting title as "E" is a very ardent jazz fan.
Buddie has been with Ray since 1962 except for a few weeks this year when he worked for George Jones.
Buddie's very attractive wife, "Gigi," was once secretary to Col. Tom Parker. A roommate of Anita Carter (Carter Sisters), they met backstage at the Opry and were married six months later. They have two children, Buddie Gene and Tammi.
Buddie says his favorites are: Food - Mexican food Song - "Over the Rainbow" Sport - boxing Female singer - Nancy Wilson Male - Frank Sinatra.
The Big E is 6' tall, weighs 170 lbs., has brown curly hair and hazel eyes. He tells us that his ambition is to have a successful business with his new guitar. He has just recently built a new Stereo steel, The Emmons Stereo, and the sound is out of this world.