Buddy Emmons first hit Nashville on July 4, 1955, bringing along his steel guitar, limitless talent that dazzled a city full of gifted musicians and a streak of wildness that could have made his career a Roman candle, as big as the sky, before it burned out too soon.
He was only 18-years-old, then, yet his musical and technical ideas proved so superior, so extraordinary that they were copied virtually overnight. Emmons was always fooling with his steels, experimenting, adjusting, refining, rethinking, doing anything to make the tone richer. He revolutionized the instrument, from the way it was set up to the fast, breathtaking he could play it, and, appropriately, he is regarded as the greatest steel guitarist in the world.
"I had a lot of energy. I was cocky," a mellower Emmons, who just turned 41, says with a laugh. "I knew I could play, but I knew I didn't know a whole lot about music. I was always humble around anyone who had been here longer than I. I had a lot of people I wanted to meet."
He was always ready to socialize. "I spent most of my time with a drink in my hand. I just liked to have fun." Life in the fast lane put the moody Emmons through two divorces, booze, pills, tax problems and a six-year exile from Nashville while he played bass for Roger Miller. He still doesn't get close to many people in the business. But he's been back in Nashville for about four years, his longtime interest in jazz has been intensified by a guitarist named Pat Martino, and he's still the greatest artist on the steel guitar.
With its standard two necks, foot pedals and knee levers, there is nothing like today's sophisticated, flexible steel guitar. It's the most expressive, most distinctive - most complicated _ instrument in music. Emmons uses nine pedals and 10 levers all of which do the same thing - allow him to change the pitch of any string while he's playing.
"Just about every week I'd come up with some kind of change," he says of the old days. "I'd take a metal neck off and replace it with wood to see if that would help the tone. I had a neck without a fret board; that was to keep other people from playing it. I had the only guitar in town with an ashtray on it."
"Contrast of sound is the most important thing. When you're at that stage you never know what works. If you get it on record and it makes a jaw drop, it's been worthwhile."
In that case Emmons knew about jaws long before movies about sharks. He's been playing intros, turnarounds, riffs, licks - all those words that fall short in describing the wonderful things skilled musicians do - for a lifetime since he began playing the steel when he was 11-years-old. The first recording session Emmons remembers included Faron Young's Sweet Dreams in 1956. Sidemen weren't listed on the albums, which was frustrating then and is inexcusable now.
Emmons' recent work includes Mel Tillis' Good Woman Blues and Marty Robbins' Among My Souvenirs. He's never had a hit single, but he plays on the Suite Steel album and he's released several stylish albums like Buddy Emmons Steel Guitar, Buddy Emmons Sings Bob Wills (surprisingly well, too) and one with fiddler Buddy Spicher called Buddies that are musts for anyone who loves the instrument. Emmons' latest album was recorded live during a steel guitar convention last September in St. Louis. He's also prominent on Ray Price and the Cherokee Cowboys Reunited and is producing singer Darrell McCall.
There are many outstanding steel players, like Ralph Mooney, Lloyd Green, Pete Drake, Weldon Myrick, Hal Rugg, Curly Chalker, Tom Brumley and Doug Jernigan, but Emmons is alone at the top.
"He's not an ordinary guy," Lloyd Green says. "In my opinion Buddy Emmons is probably the most intelligent and talented musician who's ever played the instrument."
"He's like Picasso or Michelangelo. That might be laying it on a little thick, but he's just flawless in his playing. Nobody is the composite player he is."
"He was the first modern great steel player and nobody's surpassed him yet. Emmons just, by God, came along and sounded like a 1977 steel player when he came here in 1955."
It may be conceded that man's greatest invention is the wheel. However, the runner-up must be the steel guitar, a direct descendant of the Hawaiian guitar. Bud Isaacs used a foot pedal when he backed up Webb Pierce on Slowly in 1954 and country music has never been the same. Steel players all over the country added pedals, too, no matter how crude.
When Isaacs' new sound came out Emmons was already on his own, playing and drifting from club to jam session. He was only 16 when he left his home in South Bend, Ind., a famous town because of Notre Dame. But football wasn't what he wanted to play. Emmons was working in Detroit when Little Jimmy Dickens came through and hired him.
Once Emmons got to Nashville he spent years on the road with George Jones, Ferlin Husky, Ernest Tubb and finally Ray Price.
"It was just a matter of finding the right guy to play with. The first time I ever played with Ray I was scared to death. A friend of mine, Jimmy Day, played with him for seven years. I wanted to work with Ray, but I thought, 'What the hell would I do after Jimmy?'"
Emmons went with Price and came up with some great things to play. He first backed Price on You Took Her Off My Hands and later his hits included Touch My Heart. Price's Night Life album was probably country's first "theme" album and Emmons' steel guitar captured the chest tightening loneliness that often comes with honky tonks, surging and filling in behind great Price vocals.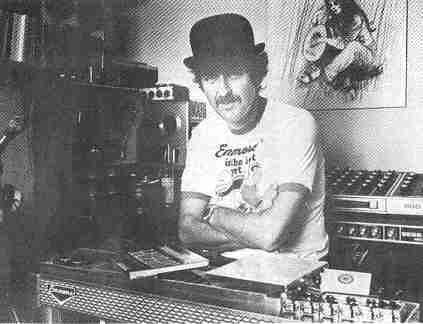 All the while Emmons was still working on his guitar. One important change came when he removed two bass strings and replaced them with "F" sharp and "E" flat. "That gave me a way to integrate some notes into pedal changes," explains Emmons, who joined Shot Jackson to start the Sho-Bud Company in 1957. Since 1962 Emmons - designed steels have been built by the Emmons Guitar Co. in Burlington, N.C.
Meanwhile, the fast life caught up with him. One day it became inescapable that Emmons, who had a heck of a time getting to Nashville, was going to be in big trouble if he didn't leave.
"I couldn't get work for one thing," he says candidly. "My wildness had peaked. I guess everybody had caught my act. I missed sessions, and I was having troubles at home with my second wife."
One fateful night Emmons was playing at the Black Poodle in Printer's Alley - with one difference. Curly Chalker was playing steel and Emmons was on bass when who should walk in but fun - loving Roger Miller. It was only minutes later that Miller asked Emmons to join his band and Emmons - to his continuing amazement - blurted that he would.
"The farthest thing from my mind was going on the road and playing bass," says Emmons, who barely played the instrument at the time but learned during his self-imposed exile of 1968-74.
Emmons had married his third wife, Peggy, in 1967, and when he joined Miller they moved to Los Angeles. While they were there Emmons worked some sessions playing steel for artists like Ray Charles and Judy Collins (including a perfect version of Someday Soon) and he also faced his problems with "uppers" and the tax man.
"I just quit taking 'em," he says of pills. "I was behind in taxes about seven years. I straightened myself out when I was with Roger." And then he went home.
How was the new Buddy Emmons greeted in Nashville?
"Very well," he says with another easy laugh. "I think word had gotten back through Roger about how well I was doing. When I got back it was like it never happened. The advantage of Nashville is you're around all the time - and it helps."
Johnny Bush, who had been Price's drummer, and Ray Pennington started using Emmons on sessions, but it took about a year to get himself established again. Now the Emmons' live in an unpretentious house east of Nashville, near the Hermitage, President Jackson's home. Emmons keeps three steel guitars in his basement; there's a huge picture of his hands taken one night when he was playing at the Ernest Tubb Record Shop, and there's even a steel guitar clock over the bar. Emmons, who loves photography, enjoys being home.
"Make Peggy the one responsible," he says. "It was the way she handled things when I first met her. When I got in one of my stages she knew how to handle it - and very quietly, too, which I wasn't used to."
He is also inspired by the work of jazz artist Martino. Emmons has gotten so carried away listening to Martino tapes in his car that he's picked up two speeding tickets.
"As far as I'm concerned he's the greatest who ever picked one," Emmons says. That kind of recommendation costs money because you have to go buy Martino albums.
"He's a breath of fresh air for me. After listening to him I'd like to be around him more and lock into his feelings."
Emmons even has a Siberian husky he's named Martino. "He looks like Pat plays - mean."
When Emmons is inspired, the steel guitar advances that much more. And, despite all the sessions and all the years, he's an artist who says, "I'm still looking for the right tone."
As great as he is, Buddy Emmons will get better.

BACK TO "FUN STUFF"